Latest reviews regarding COVID-19 and its management
1
Department of Paediatrics

,

Sagar Hospitals, Bengaluru, Karnataka

,

India
*
Corresponding author: Mohammad Ismail Hossain, Department of Paediatrics, Sagar Hospitals, No.44/54, 30th Cross, Tilaknagar, Jayanagar Extension, Bengaluru - 560 041, Karnataka, India. docsmile888@gmail.com
Received: , Accepted: ,
© 2020 Published by Scientific Scholar on behalf of Karnataka Pediatric Journal
Licence
This is an open-access article distributed under the terms of the Creative Commons Attribution-Non Commercial-Share Alike 4.0 License, which allows others to remix, tweak, and build upon the work non-commercially, as long as the author is credited and the new creations are licensed under the identical terms.
How to cite this article: Hossain MI, Raghunath CN. Latest reviews regarding COVID-19 and its management. Karnataka Pediatr J 2020;35(1):23-8.
Abstract
We discuss briefly regarding the origin of the SARS-CoV-2 virus, it's structure, routes of transmission, and pathophysiology. Then, we go on to describe the symptomatology and clinical features based on different publications from different countries. Finally, we have summarized the variable guidelines available for the management and prevention of the COVID-19 disease.
Keywords
COVID-19
Corona
Corona in children
Management of Corona
Effect of corona in children
Coronavirus (CoV) is not a new virus. It is a large family of virus which has been causing different diseases such as common cold to Middle East respiratory syndrome (MERS-CoV) and severe acute respiratory syndrome (SARS-CoV)
Almost all viruses causing common cold go through genetic mutation and form new strains. Same way, the current coronavirus called SARS-CoV2 is a new strain that causes COVID-19 disease and bat appears to be the reservoir but the intermediate host(s) is unknown.[1]
Coronaviruses are zoonotic. Detailed investigations found that SARS-CoV transmitted from civet cats to humans and MERS-CoV came from dromedary camels.[2] There are more coronaviruses which are circulating in animals that have not yet infected humans.
SARS-CoV-2 viruses like other coronaviruses, are spherical, containing single-stranded RNA and have protein spikes protruding from their surface called spike protein [Figure 1]. These spikes latch onto human cells and undergo a structural change that allows the viral membrane to fuse with the host's cell membrane. The viral genes can then enter the host cell to be copied, producing more viruses.[3]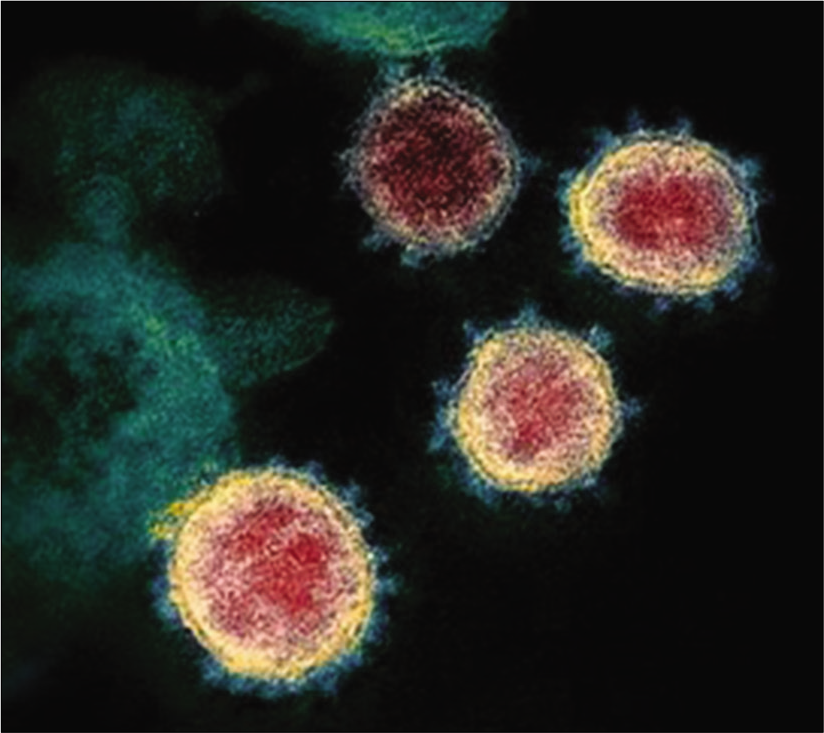 Latest work shows that, like the virus that caused the 2002 SARS outbreak, SARS-CoV-2 spikes bind to angiotensin-converting enzyme 2 (ACE2).[3]
SARS-CoV-2 spike is 10–20 times more likely to bind ACE2 which might be the reason why they are more infectious than the previous strains of CoV.[3]
Even though the structure of latest strains of virus is similar to SARS-CoV, three known antibodies against SARS-CoV could not bind to SARS-CoV2, which indicates that the treatment with antibodies of SARS-CoV is unlikely to be successful.[3]
Declaration of patient consent
Patient's consent not required as patients identity is not disclosed or compromised.
Financial support and sponsorship
Nil.
Conflicts of interest
There are no conflicts of interest.
References
Report of the WHO-China Joint Mission on Coronavirus Disease 2019 (COVID-19)

2020

.

Geneva:

World Health Organization

; 2020.

Anim Model Exp Med. 2018;1:125-33

The battle against SARS and MERS coronaviruses: Reservoirs and animal models.

Science. 2020;367:1260-3

Cryo-EM structure of the 2019-nCoV spike in the prefusion conformation.

Modes of Transmission of Virus Causing COVID-19: Implications for IPC Precaution Recommendations. Geneva: World Health Organization; 2020.

Pediatrics. 2020;145:e20200834

COVID-19 in children: Initial characterization of the pediatric disease.

Arch Pathol Lab Med. 2020;2020:5858

An Analysis of 38 pregnant women with COVID-19, their newborn infants, and maternal-fetal transmission of SARS-CoV-2: Maternal coronavirus infections and pregnancy outcomes.

Coronavirus disease 2019 in children-United States February 12-April 2 2020. MMWR Morb Mortal Wkly Rep. 2020;69:422-6

JAMA. 2020;323:1335

Coronavirus Disease 2019 (COVID-19) in Italy.

Lancet Respir Med. 2020;8:420-2

Pathological findings of COVID-19 associated with acute respiratory distress syndrome.

Intensive Care Med. 2020;46:846-8

Clinical predictors of mortality due to COVID-19 based on an analysis of data of 150 patients from Wuhan, China.

Lancet Infect Dis. 2020;20:689-96

Clinical and epidemiological features of 36 children with coronavirus disease 2019 (COVID-19) in Zhejiang, China: An observational cohort study.

Diagnosis and Treatment Protocol for COVID-19 (Trial Version 7). (6th ed). China: General Office of the National Health Commission and the Office of the National Administration of Traditional Chinese Medicine; 2020.

Diagnosis and treatment protocol for COVID-19 (Trial Version 7) the general office of the national health commission and the office of the national administration of traditional Chinese medicine. In:

PUMCH COVID-19 Prevention and Precautions Handbook.

.

Chinese: Academy of Medical Sciences and Peking Union Medical College Hospital; 2020.

J Korean Med Sci. 2020;35:e124

First pediatric case of coronavirus disease 2019 in Korea.

Clinics (Sao Paulo Brazil). 2020;75:e1894

COVID-19 Diagnostic and management protocol for pediatric patients.

Arthritis Rheumatol. 2020;2020:41454

American college of rheumatology clinical guidance for pediatric patients with multisystem inflammatory syndrome in children (MIS-C) associated with SARS-CoV-2 and Hyperinflammation in COVID-19 Version 1.

COVID-19: Informal Consultation on the Potential Role of IL6/IL-1 Antagonists in the Clinical Management of COVID 19 Infection. Geneva, Switzerland: WHO R&D Blueprint; 2020.

Fulltext Views
161

PDF downloads
113
Show Sections