Karnataka Pediatric Journal
Review Latest Developments in the field of Pediatrics.
Frequency: Quarterly (4 issues a year) | Language: English
Starting year: 1985 | Online Since: Volume : 35, July-September 2020 | Format: Print + Online
The Karnataka Pediatric Journal (KPJ) is an open access peer-reviewed journal committed to publishing high-quality articles in the field of Pediatrics.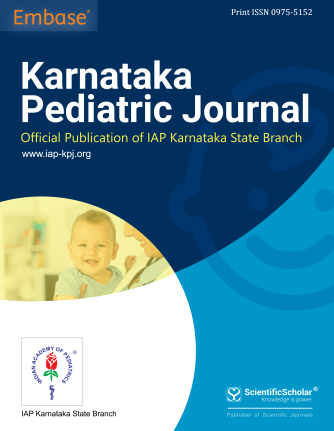 Abstracting and Indexing Information
 The journal is registered with the following abstracting partners:
Google Scholar, CrossRef, ReadCube, National Science Library, Index Copernicus, Scilit, China National Knowledge Infrastructure (CNKI), Wang Fung.
Recently Published Articles
Jagdish Chaturvedi, Gunda Srinivas
Jagdish Chaturvedi, Gunda Srinivas