Karnataka Paediatric Journal
Review Latest Developments in the field of Paediatrics.
Frequency: Quarterly (4 issues a year) | Language: English
Starting year (Print): 1985 | Starting year (Online): Volume : 35, July-Sept 2020 | Format: Print + Online
The Karnataka Paediatric Journal (KPJ) is an open access peer-reviewed journal committed to publishing high-quality articles in the field of Paediatrics.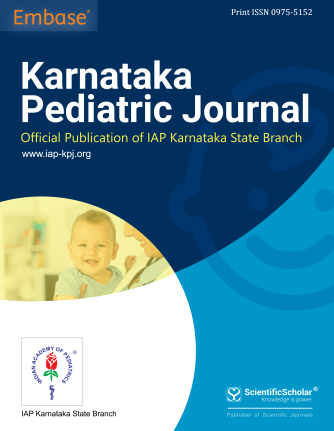 Abstracting and Indexing Information
 The journal is registered with the following abstracting partners:
Google Scholar, ProQuest, ReadCube, CrossRef, Portico.
Recently Published Articles
Rajendra Raghunath Khadke, Abhijit Venkatesh Joshi, Ganesh Laxmikantrao Kulkarni, Manish Ganesh Kulkarni
M. S. Vishak, Tejaswi Mishra, Kalaiarasi Raja
Vykuntaraju K. Gowda, Anusha K. Raj, Varunvenkat M. Srinivasan, Uddhava V. Kinhal